How does the needle bearing support frame fit into the outer ring
- Jun 26, 2018 -
How does the needle bearing support frame fit into the outer ring
The mounting method for stamping outer ring needle roller bearings is similar to that for other kinds of bearings, usually with auxiliary sleeve.At this time, the auxiliary roller or auxiliary sleeve hold needle don't fell out of the needle, journal with its own chamfering lifting a needle, along with the stamping outer ring needle roller bearing on the shaft neck slowly moving into, the auxiliary roller or auxiliary sleeve out slowly, until outfit to the job position.
The outer diameter of the auxiliary roller and the auxiliary sleeve should be 0 less than the diameter of the shaft.1-0.3 mm.When installation, the surface coated with grease inside the bearing outer ring first, against the tight inner surface needle needle: (in the last one should be gaps), then replace the shaft neck of the roller bearing inner ring or auxiliary sleeve into the outer ring hole, and make it face alignment installed shaft end face or installed on the shaft bearing inner ring end face, and then use pressure on the press or hammer knock.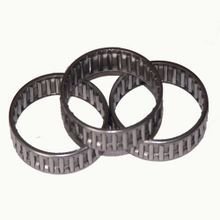 For drawn cup without inner ring or outer ring needle roller bearing, when installation, can be the first shaft hole or shell rolling surface coated with a thin layer of grease, and combine needle in close to on the installation position of grease.When the last needle is pasted, the clearance should be left, and the size of the clearance should be 0 on the circumference of the outer ring needle bearing.It is advisable to 5 mm.The last needle cannot be pressed into it, or one less needle can be installed, because the bearing will be stuck and cannot rotate.When less load, the clearance is too large, easy to cause the rolling pin to twist and break during bearing operation.For the rammed outer ring needle roller bearing with only the outer ring of stamping, as the outer ring wall is very thin, do not use a hammer to knock the installation, use the press to press in.Because of the uneven pressure when hammers strike, it is easy to cause local deformation of the outer ring of the ram outer ring needle roller bearing.